The AmeriSpec Reporting System
We take the information gathered at the inspection and compiled it into a comprehensive report. The AmeriSpec Reporting System is one of the most advanced, interactive and user friendly reporting systems in the industry. So we ask that you take a moment to review the following images and videos which will explain some of these features. This will ensure you are able to maximize your experience and understanding of the issues we discovered during our inspection.
Be aware that most of the properties we inspect will have a fairly extensive list of items which are in need of attention or do not meet current building standards. We also include lots of photos in our report. We feel that this is the best way to provide a clear explanation of each issue. So do not let the length of the report over whelm you. You will see we have several feature which will help digest the information and manage the length of the report in case you want to print it.
Once you have finished reviewing the many features of our reports you can return to your report or use the link below to view a sample report.
Sample Report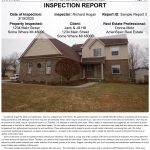 Please review features below before viewing report.
Checkout Our Premium Feature
AmeriSpec Buyers Request
This tool allows clients and/or realtors to extract one or more items from the report creating a list of items to request some kind of corrective action or compensation of the buyers and/or quote from contractors. Please take a few minutes and view this short video.

( 3:19 min )
360 Virtual Tour



Our report may also include 360 photos, creating a virtual tour of the property you can share with family and friends with out sharing the full report.
Report Features
(Click on images to view or link to watch video)