While we value our relationship with our Realtors, our goal is to provide the highest level of service possible to our clients. The Realtors we typically work with also embrace this philosophy. We provide a thorough appraisal of the condition of the property with out being an alarmists. Most issues can be resolved with time and money, the question is, is it viable for the client to deal with them. That is a question only the buyer can answer. Below are a number of services and features we provide which benefit both you and our clients.
FREE Continuing Education Credits
AmeriSpec Oakland is prod to offers free State of Michigan Certified Continuing Education classes for our Realtors. These classes range from 1 to 3 credit hours. We provide both online and in person classes. We under stand the true cost of being a Realtor, especially for new Realtors. So it is our pleasure to help out. We also feel that the whole transaction goes much smoother with a well educated Realtor.
Use the link below to review our course schedule. We hope to see you soon.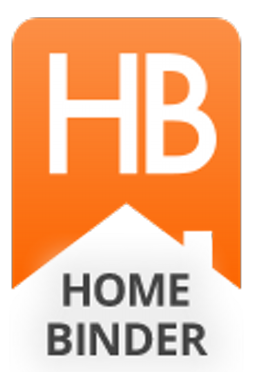 Home Binder For Home Owners
HomeBinder Your Marketing Partner.
We provide our clients with a free lifetime subscription to a service called HomeBinder. While this is a great value for our clients, it also very beneficial to our Realtors. Each home binder contains your contact information and a profile which you can customize. The app. also sends out Email reminder for common home maintenance item throughout the year. These Emails also contain your contact information. Keeping you in front of your client several times a year. We send out 1000's of these Emails each year.
The HomeBinder provides a convenient central location for clients to keep all of their home records. Client will be able to document model numbers for valuable items, store contractor information, and even schedule periodic home maintenance reminders. The app. also provides recall check on the major appliances in the home. They will also receive a comprehensive 192 page home maintenance and repair manual which is included in the HomeBinder.
Our Report is an Interactive Webpage
As you well know most inspections reports are a PDF. Our report is an interactive webpage. Allowing you and your client to view the information in a number of way. We also make it easy to extract any part of the report to share with the sellers and/or contractors. One of these features is the AmeriSpec Buyers Request List (see the adjacent description). The report also has pop up definitions to term which the reader may not be familiar with, and many other advanced features. Please follow the link below to review a sample.
AmeriSpec Buyers Request (ABR)
Save over an hour of your time by building your addendum directly from the report.
This tool allows clients and/or realtors to extract individual items from the report creating a list of items to request some kind of corrective action or compensation of sellers and/or quote from contractors
The ABR can be created directly from the report while you are reviewing your report.
The list can then be print, output into a PDF, or copied into other applications like Word or an Email for sharing with the buyers, Realtors, or contractors.